Initiatieven ter opvang of ondersteuning van Oekraïense vluchtelingen
Zelf een initiatief starten?
Jobaanbieding voor Oekraïners?
De Cronos Groep wil alle initiatieven waarbij jij als Cronosiet betrokken bent ondersteunen.
Ben jij persoonlijk betrokken bij een initiatief waarvoor je onze steun kan gebruiken? Heb je nood aan hulpgoederen of logistieke hulp om jouw initiatief dat extra duwtje te geven?
Laat het ons weten via cronos4ukraine@cronos.be
 Vermeld duidelijk wat je nodig hebt wat je link is met het desbetreffende project. Vervolgens matchen we jou met de juiste mensen en middelen die de groep ter beschikking stelt.
Deze initiatieven kunnen heel uiteenlopend zijn. Denk hierbij aan bijvoorbeeld het verzamelen / aankopen van hulpgoederen, bieden van onderdak/opvang, organisatie van inzamelacties, ondersteuning bij communicatie, jobs, …
Door jullie inzet kwam de hulp uit alle hoeken en konden we al een massa aan hulpgoederen inzamelen. Een groot deel van deze goederen heeft inmiddels ook al hun eindbestemming bereikt en daar mogen we trots op zijn.
Hieronder enkele achievements in de kijker.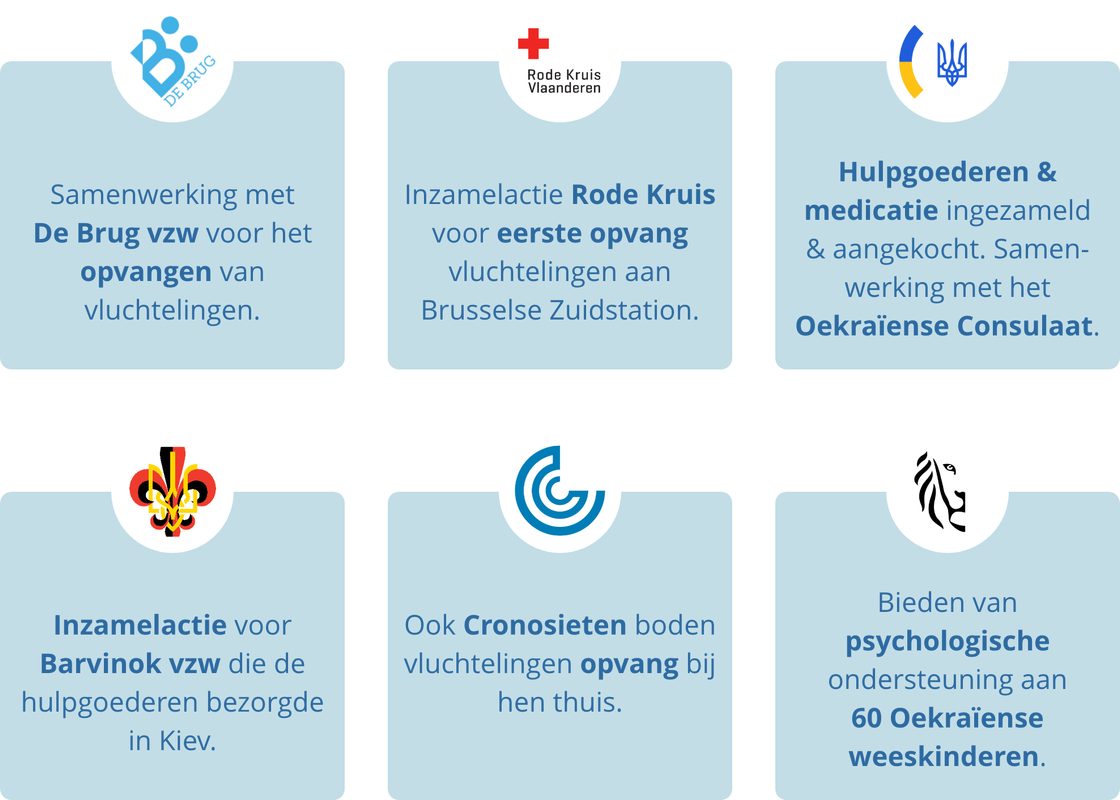 "Peace" (vrede) is één van de 5 P's die de Verenigde Naties uitdraagt als duurzaamheidsmodel.
De Cronos Groep werkt actief mee aan het bevorderen van deze 5 P's en zet met dit initiatief mee in op de Duurzame Ontwikkelingsdoelstelling 16: Het bevorderen van vrede, veiligheid en sterke publieke diensten.